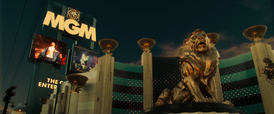 The MGM Grand is a hotel casino located on the Las Vegas strip. IT is owned by Terry Benedict.
The MGM Grand Garden Arena is its entertainment venue, largely used for hosting events such as sporting matches.
Ocean's Eleven
Ad blocker interference detected!
Wikia is a free-to-use site that makes money from advertising. We have a modified experience for viewers using ad blockers

Wikia is not accessible if you've made further modifications. Remove the custom ad blocker rule(s) and the page will load as expected.